Lesa is a resident of the Catherine McAuley Center's Transitional Housing Program, which is supported by funding from the Iowa Women's Foundation. The program is designed to meet the unique needs of women who are healing from trauma, by offering support for basic needs as well as opportunities for residents to build relationships with one another as well as the wider community. The Center's mission is to offer hope and opportunity through educational and supportive services that promote stability, skill-building, and connection.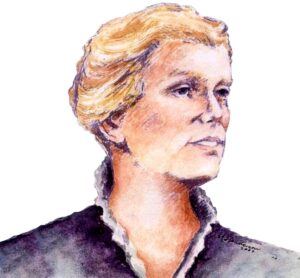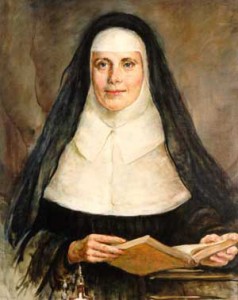 In celebration of Women's History Month, I'd like to acknowledge a woman who, though she lived an ocean away in Dublin, Ireland, two centuries ago, has left a profound legacy for women in Iowa today. Her name is Catherine McAuley.
Catherine McAuley, born in Dublin, Ireland, in 1778, was inspired by her unwavering faith and devotion. After losing her father at age five and her mother about a decade later, Catherine lived through periods of hardship and poverty as she moved between various sets of relatives, until accepting an invitation to manage the household of the wealthy Callahans. Considered a daughter by the Callahans, she cared for them until they died, and received a generous inheritance.
Driven by a keen sense of God-given purpose, Catherine was determined to use her inheritance for relief for the poor by offering shelter and education to women and children. She founded the House of Mercy in Dublin in 1827. Later, she engaged other women in her mission and founded the Sisters of Mercy, a religious women's order. Catherine's legacy of mercy lives on throughout the world, as 13,000 Mercy sisters minister in 45 countries, carrying the torch of compassion for others as they address five critical concerns: Earth, Immigration, Nonviolence, Racism, and Women.
That torch has offered light through education, medical care, and compassionate services in my own community of Cedar Rapids, Iowa, where three institutions founded by the Sisters of Mercy are an important part of the city's landscape—Mercy Medical Center, Mount Mercy University, and the Catherine McAuley Center.
I am a benefactor of Catherine McAuley's legacy. I am part of the Transitional Housing program for women at the Catherine McAuley Center. I was welcomed when I was broken and desolate, homeless, and full of despair. Through the program, I have become more self-sufficient, accountable for my physical and mental health, and am pursuing goals that I have determined to be important.
This program encourages women to embrace independence and autonomy. When I walk through the door, I know I am safe, my basic needs are met, and resources are available. I have a safe place to live, that includes my own room, privacy, computers, phone, a beautiful kitchen, and access to encouraging staff. I have found new friends and self-confidence while finding my voice and making my own decisions after surviving years of domestic violence. CMC has changed my life. I am home.
Like the women Catherine McAuley served in Dublin in the 19th Century, I have experienced compassion and mercy. But I am not only a benefactor of Catherine's legacy. Other residents of the Catherine McAuley Center's Housing Program and I have many parallels with Catherine's life. Like her, we've loved and lost family. We've been shifted around and have felt out of place. We have moved from poverty to comfort. As we find stability at the Catherine McAuley Center, we also learn to serve each other, paying it forward with compassion for others. We share meals, our experience, strength, and hope. We share comfort through a cup of tea, Catherine's specific request, and carry on the legacy of caring for others in our own community and beyond.