The Bottom Line: Investing in Child Care Pays Off.
Child care is essential for working parents. When businesses invest in solutions that increase access to affordable child care for employees, they create a stronger, more engaged workforce. Not only that, but costs related to turnover, absenteeism, and other interruptions are reduced.
Child Care is a Workforce Issue
Research shows that access to child care matters a lot. Employee exit surveys have found child care is listed in the top three reasons for turnover, and in a study conducted by the Society for Human Resources Management (SHRM), it can take up to 60% of an employee's annual salary to find their direct replacement.
Child care issues also cause working parents to be absent from work for nearly two weeks per year. According to the Early Care & Learning Council, when companies provide child care benefits, employee absences decrease by up to 30%, and job turnover declines by as much as 60%.
There is a childcare crisis happening in the US, and it's directly affecting employees across every sector. Now is the time for employers and government officials to step up and implement creative solutions to ensure the long-term sustainability of our workforce.
— MEGAN SCHULTE, VP OF HUMAN RESOURCES, FRONTIER CO-OP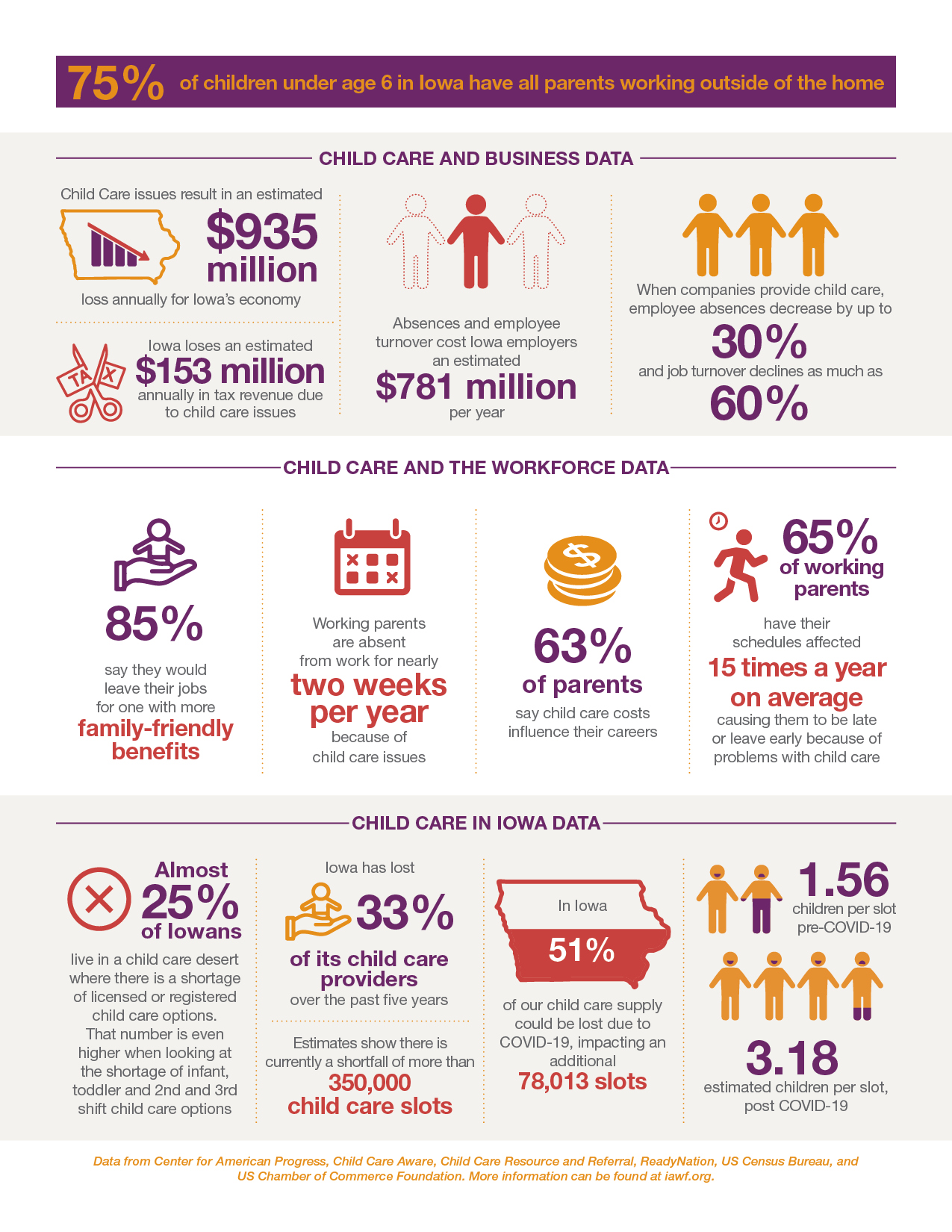 Iowa Business and Child Care Coalition
With child care even more inaccessible today than before the pandemic, parents—many of them women—are dropping out of the workforce at record rates. As a result, the workforce gap continues to grow wider.
IWF has partnered with business leaders from across the state to form The Iowa Business and Child Care Coalition (IBCCC) in an effort to help close this gap.
The IBCCC approach includes:
Sharing best practices and information on business-provided solutions—such as co-op child care, on-site child care, and compensation packages that feature child care assistance—and modeling expanded offerings in our own workforces.
Exploring models of shared services that can support and expand the child care ecosystem.
Advocating for common sense change in the child care system that supports registered operations, increases access to support, and reduces barriers without impacting the quality of services.
We are grateful for our business partners who are dedicated to exploring this issue for the benefit of businesses and families all across Iowa.

Interested businesses, trade groups, and other organizations can request a downloadable or printed toolkit at no cost. Large quantities of printed toolkits are available for business associations or groups exploring the issue.
The IBCCC created a toolkit to help businesses address how child care affects workforce participation. The comprehensive toolkit includes detailed information on how to implement one or more of six solutions:
Backup Child Care Options
Flexible Spending Accounts
Flexible Work Arrangements
Off-site/Nearby Partnerships
On-site Child Care
Subsidized Child Care
IWF developed surveys to help gauge employee interest in types of child care assistance and the impact it has on attraction and retention. For more information, request your surveys and business partnership examples below. These include:
Survey on child care impact for employees
Survey on child care needs for employers
Survey on child care for businesses
Partnership examples
Employer Engagement Director
IWF has partnered with the Iowa Economic Development Authority (IEDA) to hire Sheri Penney as a full-time Employer Engagement Director. Sheri's role is to educate businesses and community leaders on the economic impact of child care while also providing assistance for those interested in exploring and investing in child care solutions.
What an Employer Engagement Director can do for you:
Delivers presentations to business leaders and community stakeholders
Connects interested businesses to child care experts and businesses who have already made an investment in child care within their community.
Offers resources for data collection, identifying needs, meeting needs, and support in sustaining a long-term plan
Provides 1:1 tech support
For more information, please contact
sheri@iawf.org
.