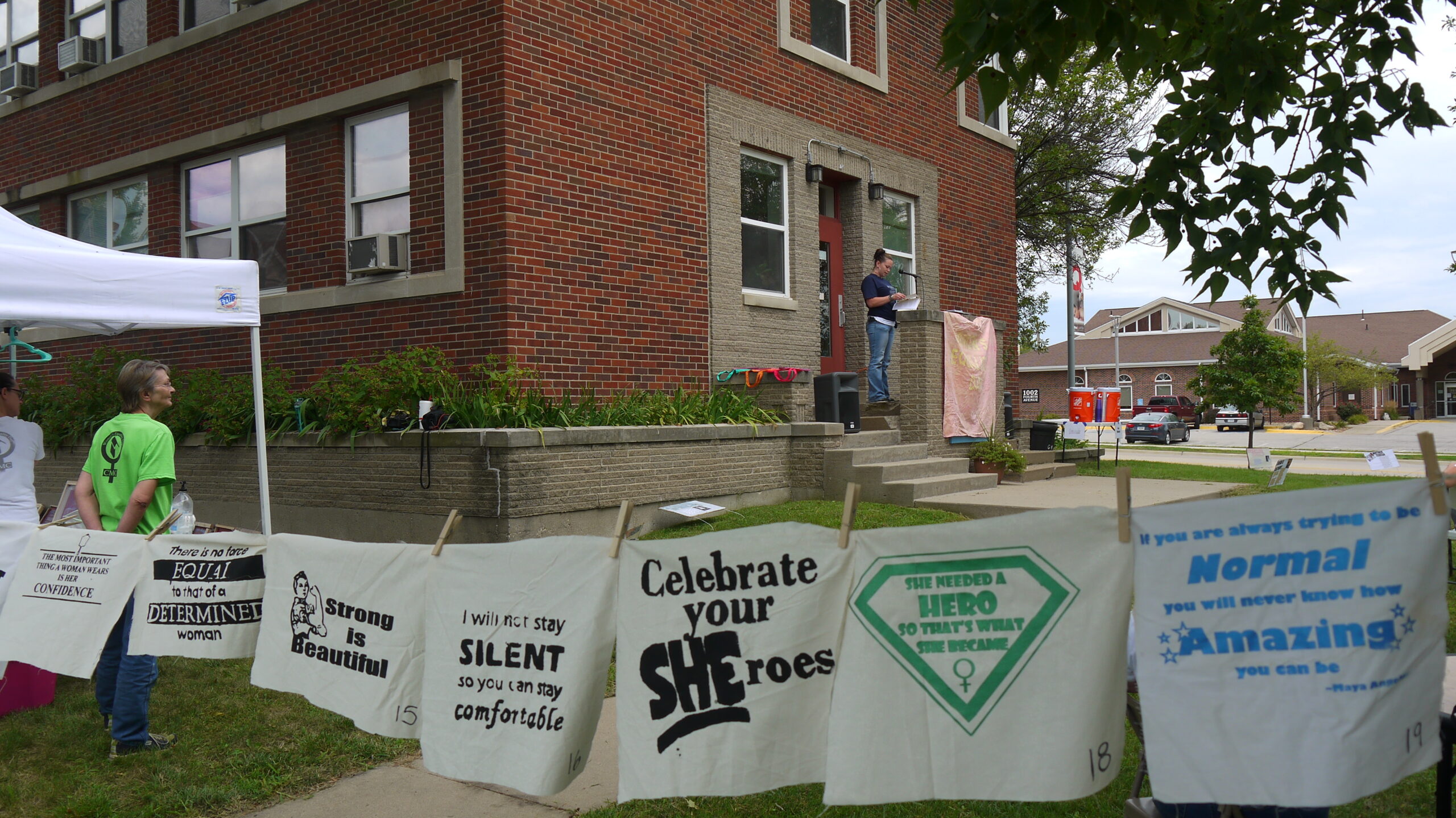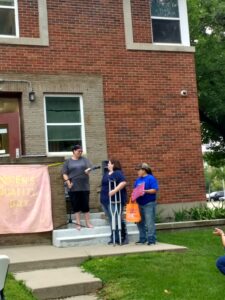 Each August, residents of the Catherine McAuley Center's Transitional Housing Program, have welcomed the community to the Center's lawn for a celebration of Women's Equality Day, the anniversary of women gaining the right to vote in August of 1920. But at the Catherine McAuley Center, Women's Equality Day isn't only a time to celebrate the historical accomplishments of women. It's a time for the women we serve to work together to plan an empowering event that inspires guests to use their voices on important issues in our world today.
The event is an exercise in creating positive community connections, one of the outcomes of the Transitional Housing Program project that is funded by the Iowa Women's Foundation. Residents spend the weeks before the event making connections with local businesses that donate door prizes and writing speeches that are performed in front of community members in attendance. The day of the celebration, residents greet guests and take orders for silk-screened t-shirts, which they print on-site. All of these interactions provide residents, many of whom typically withdraw from social interaction, with opportunities to build confidence in meeting new people.
This year's Women's Equality Day celebration was not only an exercise in forming community connections, but a celebration of the connections formed years ago that continue to influence the lives of women in the Transitional Housing Program today.
At each Women's Equality Day event, three local female leaders, nominated by current residents, are awarded SHE-ro awards for Courage, Character, and Commitment. This year, two of the three award recipients, selected by residents out of more than a dozen names, were former residents of the Transitional Housing Program who have now stepped into leadership roles in the program: On-site Peer Leader and Transitional Housing Support Services Assistant.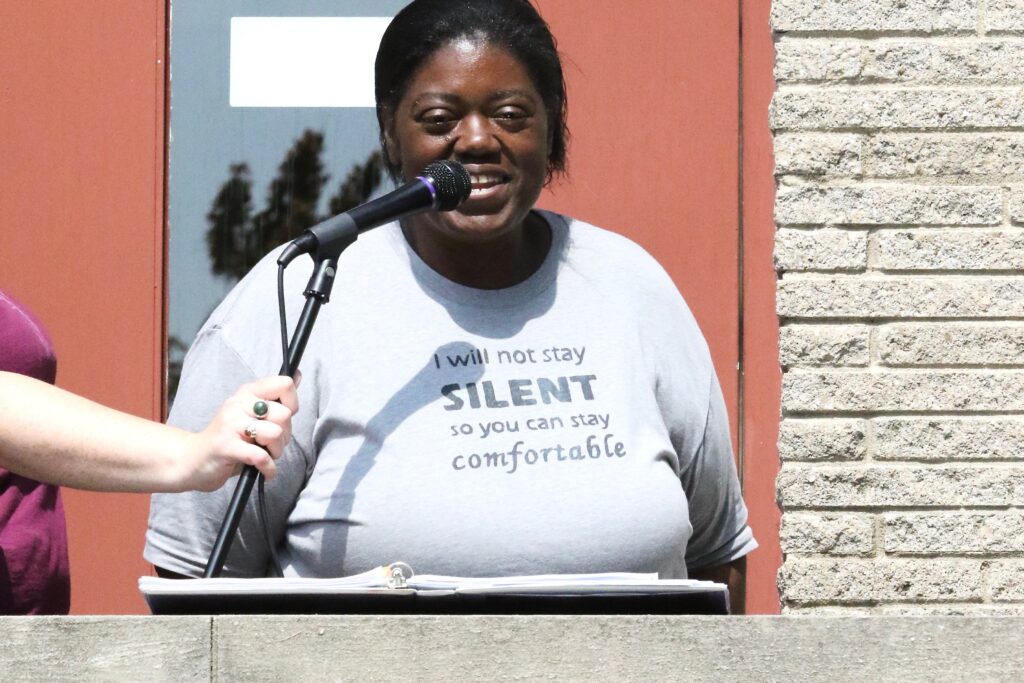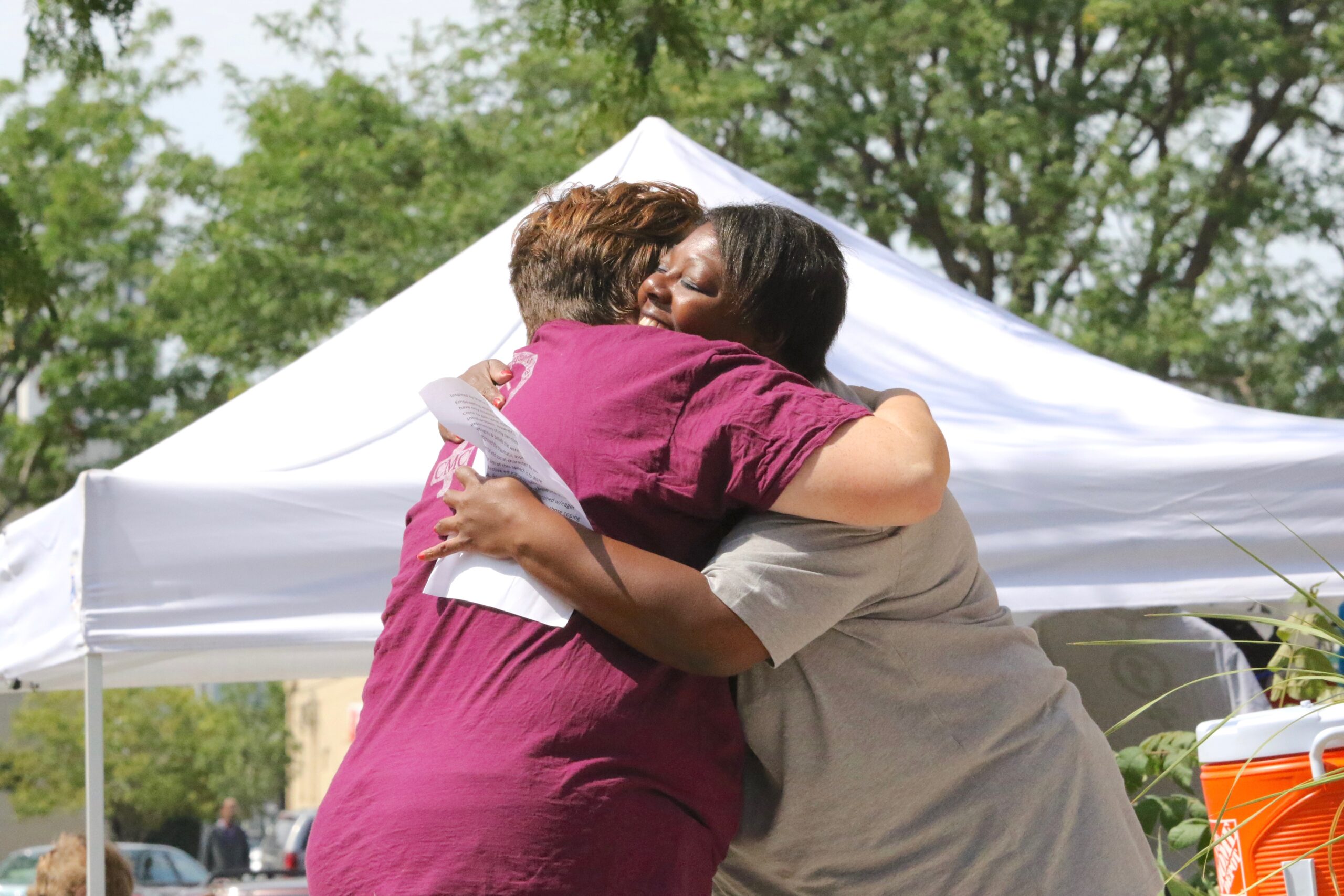 The award presentations honoring these incredible women and written by residents, speak for themselves:
"Senior Peer, Laurie, recipient of this year's Commitment award, shows up, sticks around, and speaks her mind. She is always willing to be an ear to listen, a shoulder to cry on, or even just a ride home."
"Support Services Assistant, Tara, is the recipient of this year's Character award. No matter the obstacles that come her way, she doesn't let it get her down. I know this because she shares her life with us and it gives me hope that I can conquer whatever trials and tribulations that come my way. Her journey has been my journey."
Every woman in the Catherine McAuley Center's Transitional Housing Program has experienced trauma—domestic violence, substance abuse, mental illness, sexual assault, and more. In their time in the program, they begin to discover their own resilience through weekly meetings with case managers and a variety of therapeutic and skill-building group learning opportunities. It is the sense of community and the personal connections that residents form with one another that motivates them to keep working toward their goals.
Many thanks to the Iowa Women's Foundation for believing in the value of these positive social connections for women and girls across the state.