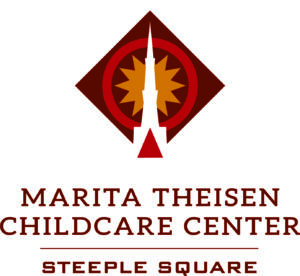 The overall Steeple Square project has been focused on restoring an historic church campus while revitalizing what is arguably the city's most vulnerable neighborhood.  The most recent addition to the campus is the Marita Theisen Childcare Center, housed in the former church rectory.
Plans for this center were formulated in response to a critical need for additional childcare in Dubuque, particularly for low-income families.  Our center opened in August of 2019, focusing on neighborhood families and surrounding businesses.  Intended to serve 30% low-income families, we are currently serving almost 70% DHS supported families.
In addition to basic care, we are proud to provide a high-quality curriculum, designed to meet the unique development and learning needs of children from 6 weeks to 5 years.  Our state-of-the-art facility provides a very warm and home-like setting with lots of natural lighting.  We have become a trusted center for many single parents entering or returning to the workplace.  A recent survey response summarizes what we have heard from many, "My child has grown so much from her past daycare to being here.  She has learned so many new things, and she doesn't come home hungry anymore!"  Our wonderful on-site cook prepares all meals and snacks, adding another homey touch (and great scents) to the center.
In addition to serving our full-time families, we partner with Northeast Iowa Community College, Greater Dubuque Development Corporation, and the Community Foundation of Dubuque to provide free childcare to under and unemployed individuals while they prepare for the workforce in one of several certificate programs, also at no cost.
Support from the Iowa Women's Foundation has helped to fill the gap between childcare fees collected and the cost of staffing.  This is essential to our success because of the percent of DHS supported children we are serving.  We could not provide our services without this sort of help!