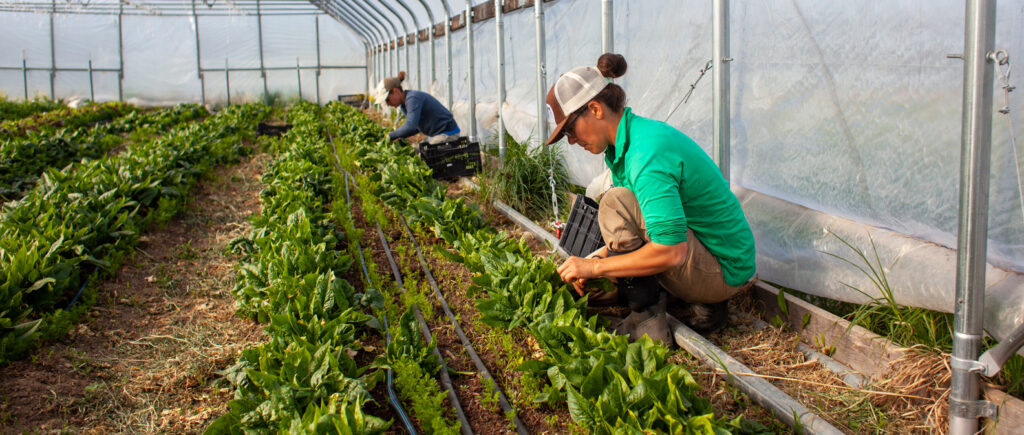 A special thank you to our 2022 Grantee Partner, Women, Food & Agriculture Network for writing this guest blog and sharing more about their wonderful organization. To learn more about them, visit https://wfan.org/.
2021 was a big one for the Women, Food & Agriculture Network's mentorship program, Harvesting Our Potential (HOP). We expanded to include skill-building mentorships for existing farmers and farm sitting. We also grew into Ohio and had our highest number of mentorships to date. Below are highlights of our HOP 2021 Iowa season, made possible with support from the Iowa Women's Foundation.
Full Season Mentorships
Each year applicants are paired with mentors that match their farming interests and goals. In 2021, goals ranged from learning more about marketing, business planning and record-keeping to raising animals, Community Supported Agriculture (CSA) management, community building and food justice, horticulture, and pollinators, among many others. Mentees came to their mentor farms from as far away as California and as close as a neighboring valley.
Mentorships For Existing Farmers
We believe that farmers are always beginning farmers, as they are constantly learning, adapting, and finding ways to diversify their farm and food businesses. In 2021 we piloted a skill-building mentorship track for current farmers. Two of our farmer mentors worked with other farmers to learn about sheering sheep and processing animals raised on the farm.
Farm-Sitting
Farmers rarely have time to leave their farms for needed time off for respite, family care, or additional training. Farm-sitting is a new program that allows mentor farmers to leave their farm with confidence knowing their mentees will cover essential farm tasks as paid "farm-sitters." Two mentee/mentor pairs took part in 2021, building confidence and income for the mentees and stronger communication and relationship building between the mentors and mentees.  
Networking
Networking is an integral part of what we do at the Women, Food & Agriculture Network (it's in our name after all!). We connect those in the mentorship program with folks locally, regionally, and nationally who can provide additional resources and support.
In 2021 HOP included opportunities to network with other mentees and network members through a virtual meet and greet, retreats and farm workdays, a winter solstice virtual gathering, and our WFAN annual conference.
Why mentoring?
When joining the Women, Food & Agriculture Network, they are told they can follow their dream to become a farmer for the first time—and that there are women across the country just like them who can provide a network of support. But without the guidance of mentors, women can often feel isolated and uncertain of the best practices and resources needed to farm successfully. Mentorship empowers women to become food and agriculture practitioners and advocates and builds social capital, community food security, more diversity on the landscape, and farmland protection.