Learn what Women's History Month means to ACT Chief Commercial Officer, Suzana Delanghe, and why she's championing the talent and values women bring to society.
As we celebrate Women's History Month, we reflect on our relationships with organizations like the Iowa Women's Foundation (IWF) that share our commitment to helping people—particularly women and girls—find success.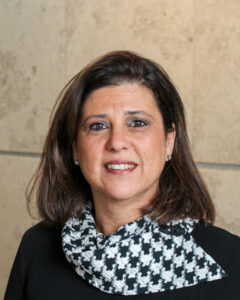 What was it like being an Ovation tribute? What did you learn about IWF?
I was proud that IWF recognized how important it is for me to empower women in the workplace and provide means for young women to succeed in their academic and professional lives. I like the fact that IWF, like, ACT, is a research-based organization, using empirical research data to improve social mobility.
Why it is important for ACT to support organizations like IWF?
As a major employer in Iowa City, dedicated to education and workplace success, ACT cares deeply about the economic self-sufficiency of Iowa women, and about helping Iowa's women and girls along their journey to a fulfilling career. Several of our team members volunteer their time and expertise to support IWF's mission, because it dovetails with ACT's desire to support the community we call home.
What does Women's History Month mean to you?
Women's role and contribution to the workforce and society has always been significant, but has gained traction as late as in the 1970s, when women could eventually access universities and get the same jobs as men, even if at a lower wage. I think it's important to know the story of last century's "pioneers"—the battles they had to fight and their hard-won contributions—to inspire new generations to build a world that acknowledges the talent and value women bring to society. Through education and financial independence, women now can choose the life they want to live.
What advice do you have for other women in your field?
Be true to yourself, have the confidence to speak up about the issues that are important to you, and choose a career that is meaningful to your values and not only tied to financial gains.