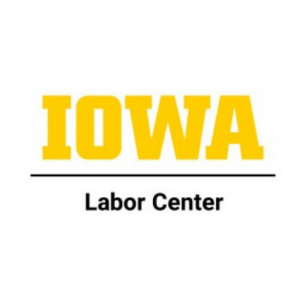 Thank you, UI Labor Center, for writing this guest blog and building sustainable solutions for Iowa's women and girls. We are proud to have you as a 2022 Grant Partner.
Across Iowa, a small—but growing—number of women are opting for hard hats, work boots, and tool belts as they join Iowa's skilled construction trades. This trend has the potential to address several historic challenges, including the shortage of skilled tradespeople and the lack of female representation in higher-wage construction trades (less than 5%).
In response, the University of Iowa Labor Center, the Iowa State Building and Construction Trades Council, and dozens of community-based nonprofits have joined forces with partners, like IWF, to advance women's recruitment and success in these high-quality careers.
Registered Apprenticeship training programs offer earn-as-you-learn training, which plays a critical role in meeting today's challenges. Iowa is fortunate to have a strong network of programs, but many women are unaware of these opportunities and lack the connections to get started. The Labor Center and dozens of building trades partners have launched a Quality Pre-apprenticeship Program (QPP) to expand access to the connections, skills, and knowledge needed to succeed in Registered Apprenticeship programs.
Women Who Are Paving the Way
For five years, Shawna Grittman worked in an office job. She wanted a career with more physical activity and hands-on work, but she wasn't sure where to start. While attending the QPP, she had the opportunity to tour the Plumbers' and Pipefitters' training center. "It seemed like a really good fit," Shawna recalled.
In addition to facility tours, the QPP curriculum includes an overview of trades awareness, construction math, CPR/1st Aid and OSHA 10 certifications, blueprint reading, and interview skills. Grittman is now a first-year pipefitter apprentice and is happy with her decision. "I have been very well-supported as an employee—and as a female employee."
When JenaLee Adams completed high school, she wanted to get a strong start but didn't want a classroom setting. After working with AmeriCorps, she attended the QPP. "I was pretty set on working in carpentry, but the pre-apprenticeship program helped me confirm that choice," said Adams—who is now a second-year apprentice with the Five Rivers Carpenters JATC. She encourages other women to consider the trades, "Go for it! For me, I like the accomplishment of being able to build something."
It's not easy to create change in industries with generations of gender segregation—but the UI Labor Center is determined to help women tap into these opportunities and achieve success.
IWF funding has also helped support leadership opportunities, such as the first Iowa Women in Trades leadership summit hosted by the Labor Center last spring and participation in the recent Tradeswomen Build Nations conference.