The mission of the Women, Food & Agriculture Network is to engage women in building an ecological and just food and agricultural system through individual and community power. One way we meet our mission is through our farm mentorship program, Harvesting Our Potential. Aspiring farmers in the program work directly with an instructor to gain hands-on experience. Through the program women develop a deeper and more realistic understanding of farm life and make connections with other aspiring women farmers, mentors, communities, and networks supporting farmers. Women in the program also learn about government and local resources available for beginning farmers and create a deeper connection to, and appreciation of, the land.
Former mentee Becca Vasquez had never worked on a farm prior to her Harvesting Our Potential mentorship, though she has fond childhood memories of her grandfather's garden. "It was there, on my late grandfather's rented garden plot in Burlington, Iowa, where I harvested my first vegetable. I remember running between the corn rows with my cousins and brother, playfully tossing dirt clods at each other, and eating freshly picked cucumbers with salt, chile and lemon."
Becca found a mentorship through Harvesting Our Potential with Susan Jutz of ZJ Farm in Solon, Iowa (now Local Harvest CSA). She also worked at neighboring Wild Woods Farm with Kate Edwards. Becca admits it was a big learning curve. "I wasn't a quick worker and there were vegetables and herbs that I didn't know how to plant or harvest. I am truly thankful for Susan and Kate's patience and knowledge, and for the discussions we had in the field and over lunch, for the new friendships, and for the new connections. I think mentorships or farmer training programs have a life-changing impact."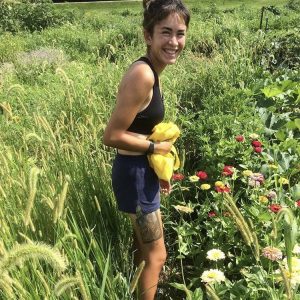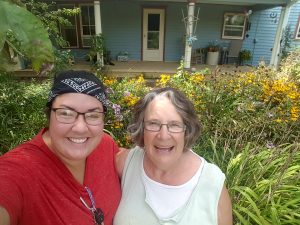 Shea Velez-Westphal remembers moving to Iowa from southern California when she was six years old. Her family lived on her grandfather's farm. It was a completely different environment from the one she had before they moved. "Over the past few years I've become more interested in farming and spent time doing research," Shea said. The research led her to attend the Harvesting Our Potential Beginning and Aspiring Farmer Learning Circle in Solon during the spring of 2017. "This program appealed to me because I've found it hard to get information catered towards beginning farmers. It was a very open, inclusive environment where I felt comfortable asking questions."
At that meeting Shea was introduced to a mentorship program through partner organization Practical Farmers of Iowa. She went on to work on Rolling Acres Farm with Denise O'Brien, founder of the Women, Food & Agriculture Network, in Atlantic, Iowa. Shea has worked at a youth shelter in recent years where she started a garden with kids. Ultimately her dream is to have a small farm and nonprofit organization that would have an after-school program for local youth that would enable them to have a safe place to learn, grow, and play.
For more information about Harvesting Our Potential visit www.wfan.org.