In 2021, the rate of unemployment for women with a disability was 10.1 percent, nearly double the percentage of unemployed women without disabilities (5.1 percent). Across the board, women with disabilities traditionally have much higher rates of unemployment or underemployment. The team at Easterseals Iowa is working hard to change this.
Easterseals offers several innovative programs that support Iowans with disabilities to learn transferable skills that can be used in community-based employment. Once comfortable, the Easterseals team will then walk alongside their clients to find a job that aligns with their talents and interests. The team can also provide job coaching while clients get comfortable in their new roles. The hope is that each client will eventually outgrow the need for job coaching and will continue to work independently.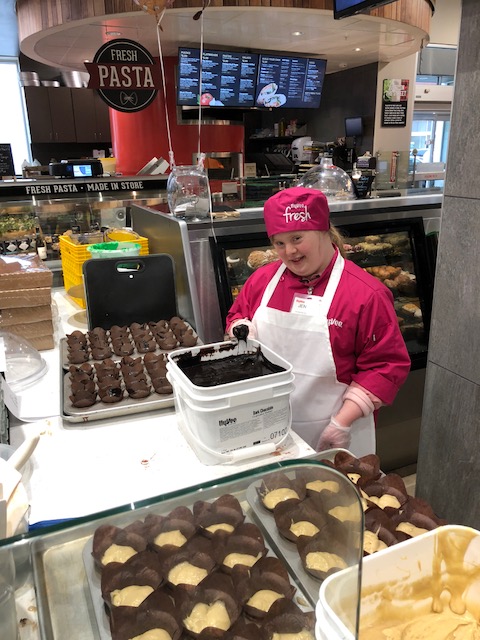 Jenny Wetzel is an incredible example of a young woman experiencing amazing success in a career she loves! Jenny loves to bake—and she is GOOD at it! As an assistant baker at Hy-Vee, she gets to live her passion every day. Before this job, she worked as a kitchen assistant, which was a valuable experience but did not fulfill her dreams of baking. Instead of settling, her job coach helped her apply for a job in the bakery. Thanks to this support—and Jenny's talent—she got the position!
Despite living with Down Syndrome, Jenny wants to be treated like everyone else. She takes great pride in her work and brings her best self to work every day. It didn't take long for the team at Hy-Vee to notice her cheerful demeanor and her dedication to the job. She was even given her own "made by Jenny" sticker to place on her baked goods so her growing customer base could identify her items!
Jenny is just one of the hundreds of women who are working successfully in the community thanks to the employment programs offered through Easterseals Iowa.
Thank you to the Iowa Women's Foundation for understanding the value of a meaningful career for all women, especially those with disabilities or special needs! Your support makes our mission possible!