IWF extends a special thank you to our 2023 Grant Partner, Catherine McAuley Center, for writing this guest blog. CMC works with individuals to facilitate stability through resources like education, skill-building, and supportive connection. Thank you, CMC, for helping uplift the many women and families who call Cedar Rapids their home. We are proud to call you a Grant Partner.
"Sometimes I feel like a taxi driver," jokes Alpho Tshamala of Cedar Rapids. But for Alpho, the hectic duties of being a full-time mom are more than welcome compared to what her family left behind.
"I moved here because of the war in my country—the insecurity and the suffering," she explains. "I moved here to have a peaceful life."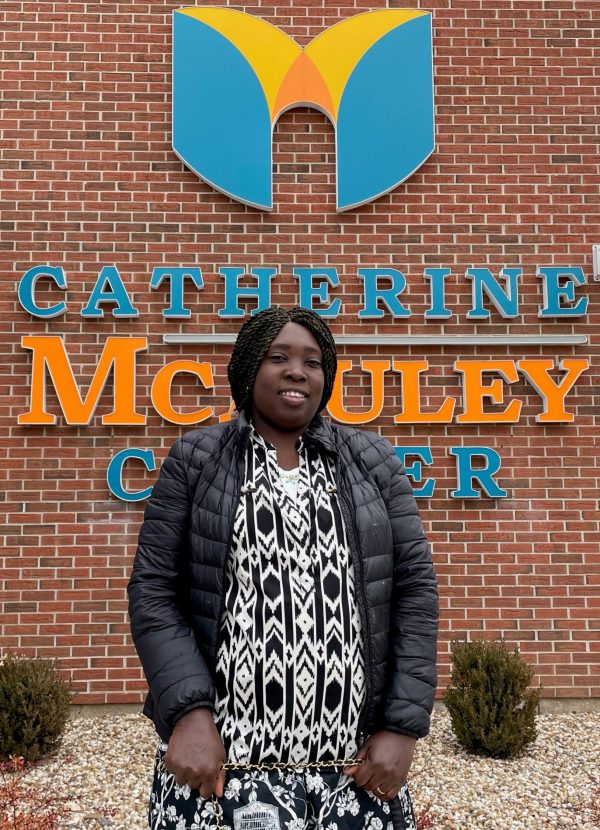 When she and her husband, Papy, left the Democratic Republic of the Congo in 2015, they had just one child. Their oldest is now 10, and they've since added twins (now 6), as well as their first girl—a 3-year-old who's busy getting into anything and everything. 
Day-to-day, this new life includes Papy working at Tyson Foods in Waterloo while Alpho juggles the myriad of tasks that come with being a mother of four. "Because I have to take care of my children and have a lot of appointments for them, I couldn't get a job," explained Alpho. "My job is to be a mom—to take care of my children and drive them around." 
Here she's being a bit humble, though, as the reality Alpho lives in is quite a bit more complicated. She also cares for the children of other Congolese families while the parents are at work. 
Now—thanks to a new $10,000 grant from the Iowa Women's Foundation—the Catherine McAuley Center in Cedar Rapids is preparing to help Alpho turn her time and skills into financial support for her own family. The grant will fund the next installment of the Catherine McAuley Center's five-week Refugee Child Care Business Development program, which will guide eight students like Alpho through the steps necessary to set up a state-accredited childcare facility in their homes.
To date, federal funds for newly arrived refugees have enabled 30 program graduates to open licensed, in-home child care businesses in the Linn County area. With IWF's new grant, CMC is now able to enroll refugees who have been in the U.S. for a longer period of time than federal funds allow.
When asked what she thinks the biggest challenge will be in her upcoming business venture, Alpho said, "I know how to do the work already, so it's hard to say what the biggest challenge will be. I don't think about what might stop me. If I decide to do something, I just do it."