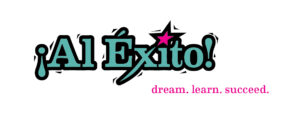 Al Éxito provides programming that builds the leadership potential of Latino/a youth through college preparation, career development, civic engagement, family support, & celebration of culture.
Iowa Women's Foundation (IWF) funding is supporting Al Éxito's girls' leadership program in Tama and Belmond. Al Éxito program has developed key strategies to actively engage youth throughout their development that will lead them to long-term success as adults in higher education, careers, and as leaders in their communities. 
Al Éxito Tama and Belmond (AÉTB) is empowering Iowa's future skilled and educated works force. IWF's funding has allowed the program to expand to serve 6th through 12th graders by building on the leadership of the older students, as well as providing weekly programs for the first time in these rural communities. Each program is currently planning special college visits where the students will meet with other Latino students, staff, and faculty, many first-generation college experienced. With only 12% of Latinos in Iowa with a bachelor's degree, these trips are crucial to build students' confidence on college campuses.
IWF has enabled AÉTB to support Latinas in their rural communities. IWF funding has allowed two Latinas to be contracted as facilitators We hired Socorro Martinez in Belmond and Nadia Jimenez in Tama. Both women are employees at their schools and well known in their community. AÉ empowered these leaders by providing workshops and trainings as well as creating a network of support across the state with other Latina leaders. Representing AÉ, these Latinas are viewed with new authority and respect in their leadership role. They are making collaborative partnerships with other community leaders as they support youth in civic engagement. Many AÉ leaders in their new role have been invited to share their experience and expertise in their community, and asked to be on panels, committees, and boards. IWF funding has allowed AÉ to create positive change in the lives of our girls and our leaders.